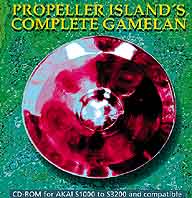 PROPELLER ISLAND'S COMPLETE GAMELAN CD-ROM* P.I. 01
Fantastic multisamples of a complete Indonesian, loud style gamelan orchestra: GONG BESAR and GONG KECIL, JENGLONGS, BONANGS, SARONS and GENDANGS. Split into 4 groups for flexibility and ease of use with different sampler RAM sizes:
1. STUDIO SAMPLES - superb stereo recordings of all instruments 2. MONO SAMPLES - same superb quality, but requiring half the memory. 3. WORKSHOP SAMPLES - alternative versions of all the instruments recorded in a small Indonesian gamelan factory.
Great atmosphere and ambience! 4. REDUCED SAMPLES - a less memory - intensive version of the work- shop sounds designed for samplers with limited RAM. Use the reduced samples to load a COMPLETE GAMELAN of more than 80 instruments and play it all from one keyboard! Also many UNUSUAL STRIKES - inspirational and exotic timbres created by unconventional playing techniques. More than 1000 samples organized in more than 1200 elaborately designed PROGRAMS, presented in both western tempered tuning and original Indonesien tuning. A selection of beautiful Indonesian JUNGLE and CONCERT ATMOSPHERES capture the mood of a real life gamelan recital.